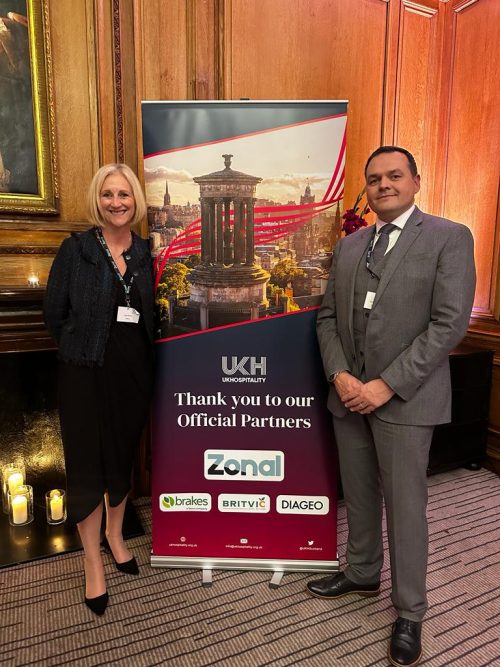 Pictured: UKHScotland Chair, Chris Wayne- Wills with Julie Baker, Hilton.
UKHospitality Scotland held a reception with Zonal at the Waldorf Astoria Hilton in Edinburgh.
More than 35 attendees, including six cross party MSPs, congregated to celebrate the sector and its contribution to the economy and society.
The hospitality sector in Scotland employs close to 200,000 people. With the right trading conditions and opportunities to invest, ours is a sector with the potential to lead economic growth in every part of Scotland.
Our key ask ahead of the Autumn Statement is for business rate relief to allow hospitality businesses to invest and grow.
We are working with the Scottish Government, as part of the New Deal for Business, to identify ways to reform the existing business rates system, a system that places too much of the business tax burden on our sector.
The Visitor Levy (Scotland) Bill was also a hot topic of discussion
Julie Baker, VP of Operations for Hilton UK & Ireland said:
We were joined by six cross party MSPs.
Stuart McMillan (SNP), Murdo Fraser (Cons), Craig Hoy (Cons), Pam Gosal (Cons), Miles Briggs (Cons) and Ash Regan (ALBA).
Thank you to all of our sponsors