Download the full guide.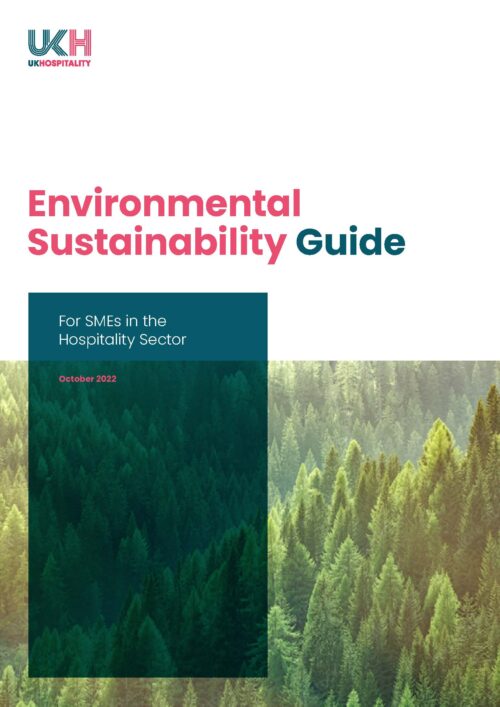 Download
Going green and becoming more sustainable is essential for venues as we work towards hospitality's goal to be net zero by 2040.
We understand that everyone is at different stages in their net zero journey. That's why we've launched our Environmental Sustainability Guide for SMEs in the sector.
Taking practical action is the most important thing for businesses, so the guide offers a variety of steps to progress to net zero. It includes:
Making 100% of plastic packaging reusable, recyclable or compostable.
Ensuring all employees have completed WRAP's 15-minute course on food waste.
Reviewing menus to incorporate more locally produced goods and plant dishes.
Engaging with suppliers to source low carbon food alternatives for menus.
As part of the plan to reach net zero by 2040, our Environmental Sustainability Commitment outlines 10 pledges on how we will deliver that commitment. This includes eliminating unnecessary single-use packaging by 2025 and reducing food waste by 50% by 2030.
What Kate says
UKHospitality Chief Executive Kate Nicholls said: "Hospitality has been swift to embrace and accelerate sustainable practices in recent years but we're entering a crucial phase in dealing with climate change, which makes our new Environmental Sustainability Commitment vitally important if we're to deliver on 2040 net-zero aims for the sector.
"Ours is an overwhelmingly SME-led industry, so it's crucial that SMEs are equipped with specialised tools to deliver the environmental targets set out by government, and to build businesses whose everyday operations are environmentally friendly."
Member case study

Hamish Stoddart, Managing Director, The Peach Pub Company
"Peach has been working for years to deliver its strategy of best of British produce and products. We use our Peach 10 Promises covering all aspects of sustainability including food ethics, waste, biodiversity, carbon impact to select individual produce, fish, meat and food supplies.
"When we know taste, cost, selling price work to keep our menus and bars great, each decision is a holistic one as we must ensure everything works in harmony. We look for products that really work on all levels for the guest, for the planet and for profit.
"This includes Cornish Lamb, asparagus grown in Norfolk and breweries in Warwickshire. If we can't get it in Britain, we then look to Europe. 20% of sales are daily specials chosen by the chef which sometimes means truly local produce."