The UK has one of the highest rates of VAT for hospitality in Europe, which is a significant drag on our competitiveness on the world stage. We saw the impact a lower rate of VAT for hospitality had when it was introduced during the pandemic – stimulating demand and generating revenue.
Lowering the rate of VAT remains one of our core asks to government and we're continuing to push this at every opportunity, particularly in the run-up to Government Budgets and Autumn Statements.
Everyone benefits from lower VAT
Read why that's the case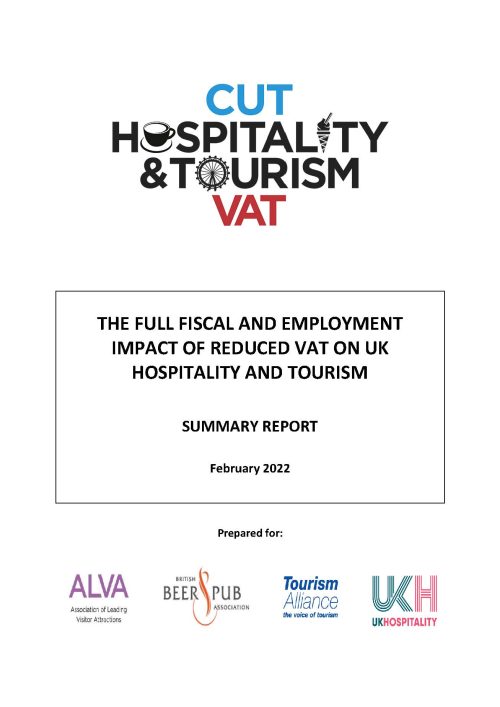 Download
A lower rate of VAT for hospitality benefits all aspects of society and the economy.
1

Keep prices down

A lower rate of VAT will allow hospitality businesses to keep prices more affordable for the public.

This will save them money when they eat or drink out, visit an attraction or book a break.

A thriving hospitality industry creates competition which keeps prices affordable in the long term.

2

Greater choice on the high street

With a lower rate of VAT, businesses can have confidence to invest and grow, opening new venues and providing different and diverse hospitality experiences for the public to enjoy.

3

Supporting venues

Through the pandemic and, now, the cost of doing business crisis, it's been a tough period for hospitality,

A lower rate of VAT for the sector would help pubs, restaurants, and many more, recover. It would also provide the boost that could keep many in business,
Backed by the public
A lower rate of VAT is overwhelmingly backed by the public.
A study by YouGov, commissioned by UKHospitality, found that 79% of the public were in favour of a reduced rate of VAT for hospitality and tourism. Just 17% backed VAT being set at current levels of 20%.
Backed by MPs
An influential group of MPs recommended that VAT for hospitality and tourism be set at 12.5%.
Prior to the rate of VAT returning to 20%, reverting back to pre-pandemic levels, the All-Party Parliamentary Group (APPG) for Hospitality and Tourism backed our calls and said that a lower rate of VAT would bring benefits including jobs international competitiveness and social wellbeing.
The APPG found that a lower rate of VAT would:
1

Support the viability of businesses

2

Improve the rate of employment

3

Positive impact on Treasury revenue

4

Support regional growth

5

Improve international competitiveness

6

Ease cost of living pressure

7

Improve social wellbeing