Read the full report.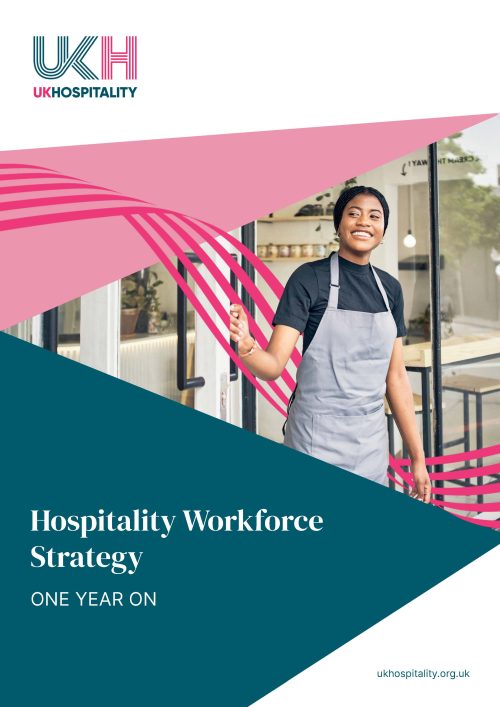 Download
Vacancies in hospitality have fallen by 33% as our Hospitality Workforce Strategy delivers successes.
Commitments made in the strategy, launched in May 2022, have helped bring down hospitality vacancies by 57,000 at its peak.
In a significant update on the strategy's progress since its launch, the sector now boasts record levels of employment in accommodation and food service with 2.7 million people employed, according to the Office for National Statistics.
There has also been significant progress to help the economically inactive back into work, put hospitality at the centre of local authority plans and the launch of a new staff wellbeing and development pledge.
What has been achieved?
The progress update summarises significant achievements over the past 18 months that have helped businesses recruit and develop their own talent:
Recruitment
1

Recruiting over-50s guide launched.

2

Enhanced partnership with the Department for Work and Pensions.

3

Inaugural 'Unlocking Hospitality' campaign to support prison leavers into work.
Skills and training
1

Developing a universal entry standard with a digital Hospitality Skills Passport on completion.

2

Education Landscape Guide and Index created with Gatsby Foundation and Strategic Development Network.

3

Local Skills Improvement Plans featuring hospitality.
Working lives
1

Launch of the Hospitality Wellbeing and Development Promise.

2

Evolution of the Hoteliers' Charter to raise standards and make careers in hospitality more attractive.

3

Above-inflation wage rate increases.
Reputation of hospitality
1

Those considering work in hospitality has risen from one in five to one in three in three years, according to Hospitality Rising.

2

Hospitality Rising campaign achieved 20,000 website clicks and 1.3m digital impressions in a month.

3

Hospitality and Schools Liaison Programme expanding nationwide with over 30 hotel and school partnerships.
Infrastructure
1

Major reform of the childcare system announced.

2

Crackdown on short-term letting properties to provide more local housing.

3

Input into how Universal Credit can support the economically inactive into work.