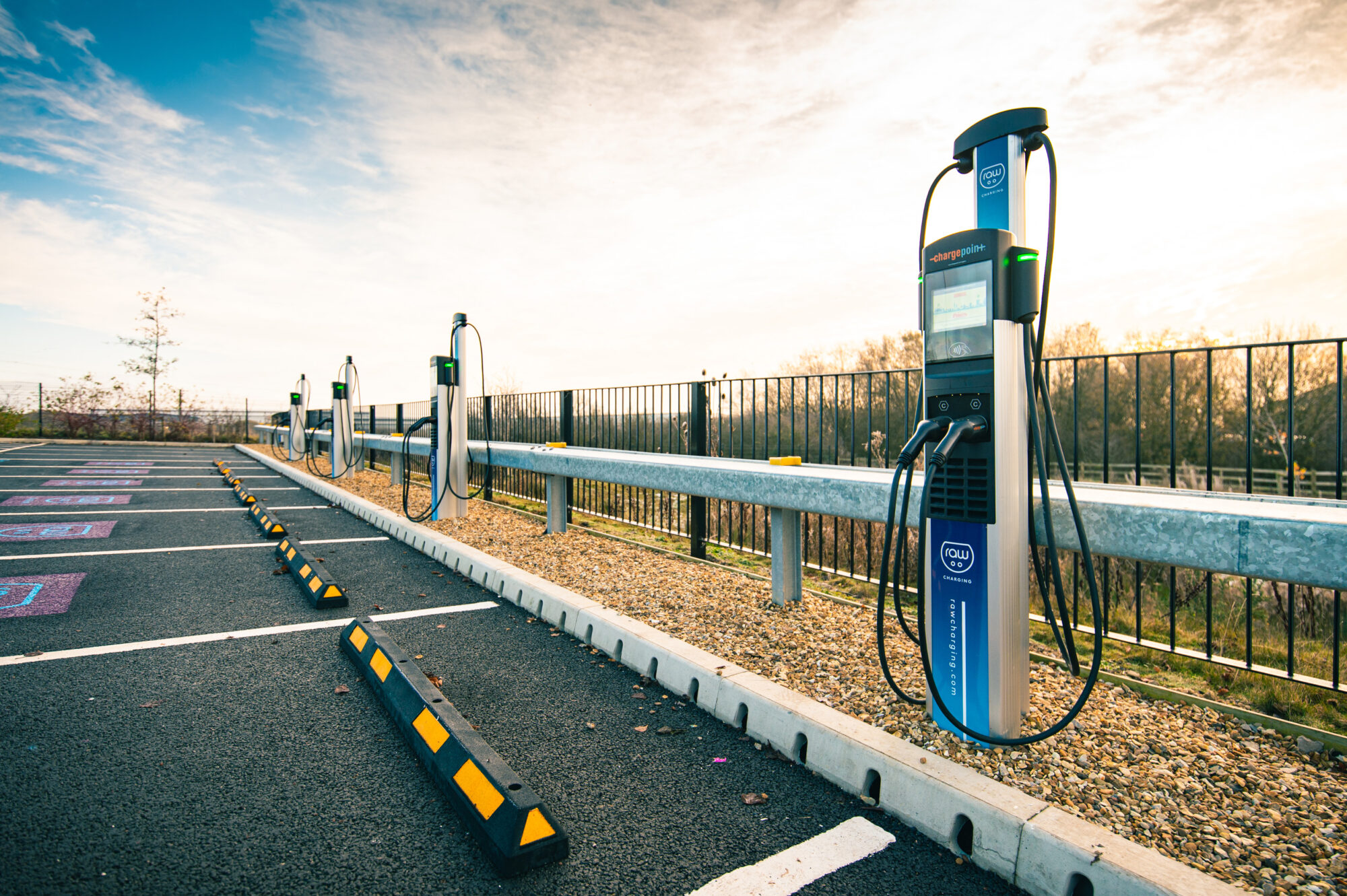 If we look back over the last 20 years, the hospitality industry has done a fantastic job catering to the need of their customers. From golf courses to theme parks, spas to restaurants and bars, hospitality has all become integrated into daily life. However, the next big issue is coming: electric vehicles and their need to be charged. Car parks need to be energised and a profit can be made. Where better place to charge your electric vehicle than at a hospitality venue?
Carbon reduction is nothing new to the hospitality sector. From the build process through to the asset management of existing sites, the hospitality industry has been looking at ways to reduce their carbon footprint. Taking it on a step, with the increasing costs of heating and powering a building, companies are thinking more and more about their energy management.
Electric vehicles (EVs) are quickly becoming the norm in the UK with over 530,000 battery-electric cars and 405,000 plug-in hybrids on UK roads according to data from ZapMap (as of 30 September 2022). Despite the increased consumer demand, 2021 had the biggest annual increase in number of EV registrations, growing 92% when compared to 2020 (SMMT), the hospitality sector is trailing behind and missing a trick.
Currently, many EV drivers must plan when and where they will charge their vehicle, often having to plan around charging points. But this shouldn't be the case. There is great opportunity for the hospitality industry to drive the EV transition by installing chargers at their facilities. Not all EV drivers are able to charge their car at home, some do not have the space, time, or ability to plug in their EV so rely on charging up at other destinations. Destination charging is becoming increasingly popular, allowing drivers to charge whilst visiting shops, restaurants, museums and other locations. Hospitality venues can all support EV drivers through having accessible charging facilities ready for customers to use. It is a solution to the demand for EV chargers which benefits all involved. EV drivers can have confidence going to their favourite hospitality venues, knowing they can charge their car whilst visiting. Hospitality owners can profit from installing EV chargers in car parks through the revenue from the chargers and by attracting a new pool of customers who will visit for the opportunity to charge their vehicle.
EV infrastructure is currently one of the biggest barriers for the transition to EVs, with lots of prospective drivers concerned about "range anxiety", the fear of running out of charge whilst on the go. To cure this rational fear, industries such as the hospitality sector need to play their part in the transition. Installing chargers at their sites across the UK will make them more attractive to EV drivers, offering a solution to "range anxiety". By 2030, having EV chargers at destinations such as theme parks and shopping centres will be the norm, but there is a chance for the industry to get a head start to make their venues more profitable and attractive. In 2021, over 220,000 EV owners sought hotels that provided EV charging facilities, choosing to book at these destinations over hotels without EV charging, showing that the demand for charging is already here.
So, what is in it for the hospitality sector?
The correct EV strategy, taken across a portfolio of assets can clearly enhance the value of the site, improve yields going forward and keep customers happy. There is also an opportunity to utilise some land that may currently be wasted. For example, RAW has installed an urban charge yard in Slough on half an acre of land that had been sitting unused at the back of an office park. This clever piece of asset management has taken part of an asset that was generating no return, to an asset that is now an integral piece of the office park. So, the message is, look at your whole portfolio and develop an EV strategy, which is a fundamental part of our approach.  It could help your return profile going forward.
The shift to electric vehicles is well underway and with it we, at RAW Charging, see a huge opportunity for the hospitality industry to generate new income streams by delivering a scalable EV strategy across their venues to meet the needs of their customers. There will be intense competition for en route charging among incumbent forecourt operators and there are slim margins for home charging operators. We are building one of the UK's largest portfolios of EV charging sites at captive locations like your pub, the supermarket and theme parks. These sites give the hospitality sector the chance to generate returns in a way that is predictable, scalable and most importantly of all, expected of them by their customers. RAW Charging offers a fully funded solution, paying for and installing the EV chargers as well as managing them to make sure the chargers at your venue are reliable and easy to use for your customers.
Importantly this is not just an issue for the future. Despite the 2030 deadline for the end of sale of petrol and diesel cars, this is an issue for now. It takes time to achieve planning, find the right supplier and install chargers at hospitality venues. The sector as a whole needs to be thinking about this issue now, not even in two years' time. Act before it is too late and prevent your venue falling behind its competitive set.